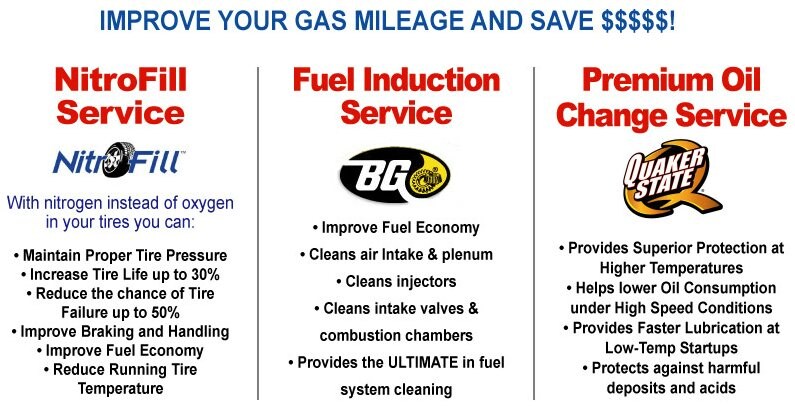 No gimmicks. No gadgets. Just two real solutions.
Have you, like many others, tried to increase your gas mileage with the latest gimmick or gadget to come along for only $49.95 plus shipping and handling. With gas prices high levels it's the great American quest. But unfortunately, none of them work.
Many automotive service departments have researched and tried out some of these products, looking for a way to serve there customers better. Terry Taylor, Service Manager for Taylor's Service Max has found one product that works. "We are always on the lookout for good products that will benefit our customers and when I heard about a television affiliate testing every product they could get there hands on with a claim to increase gas mileage, I was interested! When I heard they found one, I was determined to try it myself", commented Taylor.
The TV affiliate was WRGB CBS 6 Television in Albany, New York. They were using a Ford Explorer that was averaging 17.9 MPG before trying any of the products. One of the gimmicks actually reduced gas mileage to 15.6 MPG. The product that worked, BG Complete Engine Cleaning System, actually increased the mileage for the Ford Explorer to 19.6 MPG. Is it a miracle. No. As explained by Taylor, deposits that build up in the fuel and air induction systems of your engine have robbed your car of its agility and excitement. Modern engines are finely tuned and extremely sensitive to deposits that accumulate on intake valves, intake ports, fuel injectors and combustion chambers. Deposits in the fuel and air induction systems cause driveability problems such as hesitation, surge, stall, hard starting, rough idle and loss of power. Highly effective BG cleaners applied by technicians with specialized equipment will clean your entire air and fuel induction systems, and you will notice a remarkable difference in your car's performance. You can view the news report at www.bgams.com.


Taylor added "the increase in gas mileage and savings at the pump way more than pays for the service, and helps us, as individuals, do our small part to help keep the environment as clean as possible."
PURE NITR0GEN IN YOUR TIRES
WILL INCREASE GAS MILEAGE!
The practice of inflating tires with nitrogen has been around for a long time. Because of the benefits of nitrogen over air, it has been commonly used in tires on aerospace vehicles, commercial and military aircraft, race cars and off-road equipment. With growing availability it has become an affordable alternative to air in passenger cars and light trucks.
Terry Taylor, service manager at Taylor's Auto Max has taken on the product and is extremely pleased with fuel savings and safety features nitrogen provides. "We researched the use of nitrogen in tires and found no drawbacks, only positive results. Nitrogen inflation has several potential safety benefits including: increased safety related to proper handling and performance of vehicles; increased safety by reducing tire aging; and increased safety by reducing tire failures. We thought those were pretty good reasons to give nitrogen a chance, and we are glad we did". Visit www.whynitrofill.com for more details.


Proper tire inflation is the main reason to use nitrogen in your tires instead of air. Nitrogen molecules are larger than oxygen molecules, so nitrogen seeps out of tires at a much slower rate than air. Air is affected by heat and cold causing a tire to run a higher pressure in the summer and a lower pressure in the winter. Nitrogen is not affected by these elements and keeps an even pressure which adds up to gas mileage increases up to 3.3%. An inert gas, Nitrogen poses no safety or environmental issues.
Terry Taylor concluded, "When companies like Goodyear and Bridgestone Tires recommend nitrogen for your tires, I had to take a closer look. What I found was increased safety, increased tire life, and increased gas mileage."
For more information on fuel saving with BG Products and Nitrogen for your tires, come in to Taylor's Service Max, located at 4100 10th Avenue South in Great Falls Montana. Service Max can be reached directly at 1-888-572-6857 or 406-727-0380.